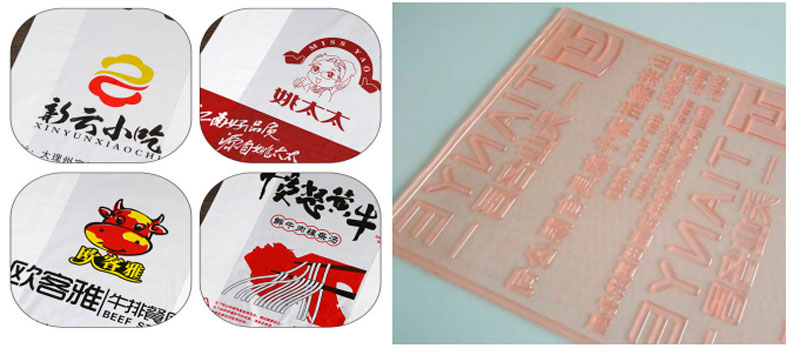 Performance:
Easy operation,flexible starting,accurate color register.
the meter counter can set printing quantity according to the requirements. Stop the machine automatically at the quantity or when the material is cut off.
Pneumatic printing cylinder lift and lower, is will stir the printing ink automatically after lifting .
the printing ink is spread by the anilox cylinder with even ink color.
Reliable drying system coordinated with high-speed rotation, it will automatically break circuit when the machine stops.
360°continuous and adjustable longitudinal register device.
The frequency control of motor speed adapts to different printing speeds.
There are Jogging/Stopping buttons on the plate roller base and material rolling rack so as to make it easy operate the machine when the plate is installed.
Flexo printing machine is used resin plate for printing texts and images on paper roll,plastic film roll,non woven roll,thermal paper roll etc. Both of water based ink and solvent ink can use.

YT-M6600

YT-M6800

YT-M61000

YT-M61200

Max.material width

600mm

800mm

1000mm

1200mm

Max.printing width

560mm

760mm

960mm

1160mm

Main motor power

4kw

4kw

4kw

4kw

Total power

27kw

27kw

28kw

29kw

Machine weight

3300kgs

3900kgs

4400kgs

4800kgs

Outline dimension

4.8x1.6x2.6m

4.8x1.8x2.6m

4.8x2.0x2.6m

4.8x2.2x2.6m

Printing colors

6 colors (6+0,5+1,4+2,3+3)

Printing length

220-1200mm

Machine speed

100m/min

Printing speed

70-80m/min

Material of Plate

Resin or Rubber

Constitution of Printing

Metal Anilox roller、Rubber roller 、Chrome plated roller、 printing Cylinder for printing length 400mm

Optional device :ceramic anilox roller,single doctor blade,ink pump;

Working Principle

helical gears

Printing precision

+/-0.25mm

Thickness of Plate (including the glue)

2.38mm

Machine Voltage

380V 50/60HZ 3PH
Loading container